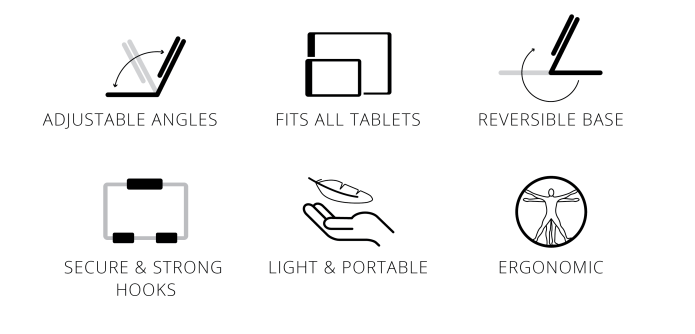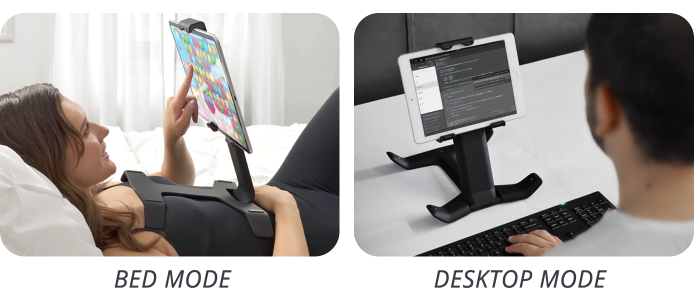 The reversible base of Tstand is its most defining feature, differentiating it from all other tablet holders. Tstand's 310° of flexibility make it perfect for any context. From watching a movie in bed to sitting at the desk to relaxing on the couch, Tstand 2 can be used anywhere. Tablets are multi-functional devices, and it's only natural for the stands that hold them be multi-functional too.
Up to 310° of rotation

Tstand holds all devices. You can lie comfortably in bed while streaming movies on your iPad, reading with your kindle, or playing on Nintendo Switch. The perfect companion for all your devices is finally here. Its expandable hooks can fit any device between 7″ to 13″ in landscape mode and many devices even in portrait mode. iPad, Android, Microsoft, Lenovo, Kindle; you name it, Tstand 2 can work with it.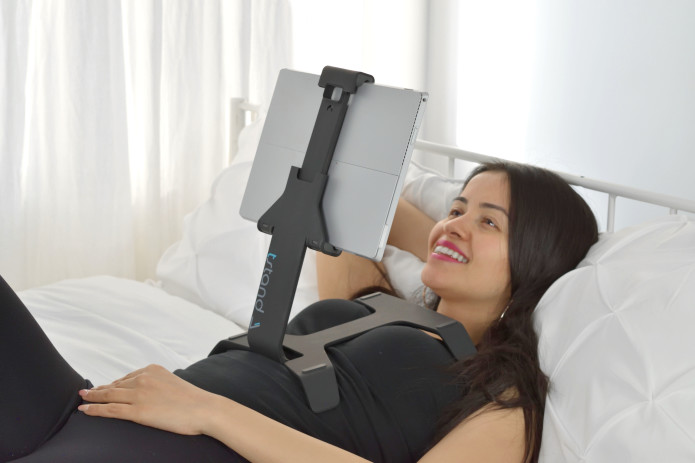 By elevating your tablet closer to eye level, Tstand eliminates all sources of potential strain and creates a more comfortable viewing experience.


Simply insert your tablet into Tstand's protective silicone grippers and voilà! Your Tstand is set up and ready to go. You can then rotate the base or adjust the angle to suit your needs.

Not only is Tstand lightweight – weighing in at just over a pound. It's also easily foldable for maximum portability. It's designed to fit into any tablet carrying case 11″ and up.

Using a tablet is not always the most comfortable experience. Sure, they are wonders of technology and we love them, but they are also big, thin rectangles of hostile design. In fact we believe that tablets are a bit of an ergonomic and technological tragedy. They were not designed to be held. Tstand solves the issue by elevating your tablet to eye level – providing a hands-free, ergonomic viewing experience. Whether you're working on a document at your desk, watching a movie in an airplane, or enjoying solitaire on a park bench, tstand has got you covered!

It's really very simple: Tstand 2 has an extendable arm fitted with protective hooks that are engineered to secure your device without exerting too much force, so as not to damage them. Simply extend the arm and insert your tablet into Tstand's protective silicone grippers. It's as easy as that.
Tstand has a patented reversible base with strong friction hinges that provide a smooth transition between two modes: the casual bed position and the upright desktop position.
With 310° of adjustable angles, it's up to you to figure out your favorite unique use and position with Tstand.
Mine is using it in the kitchen for recipes!